Welcome to my website where you can learn more about me and my books. Historical romances filled with emotion and desire. A happy ending a must.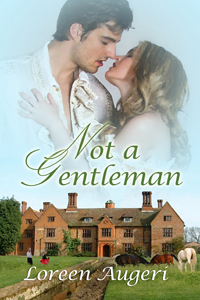 When Juliana Stevenson's father dies under suspicious circumstances, her greedy uncle betroths her and her sister to vile men for his profit. They refuse to be part of his plan and flee, but her uncle hires an arrogant, demanding man to bring them back.

Needing money to care for his brother and sister and repair a manor in disrepair, Nicholas Blackstone agrees to find the women. He captures Juliana but not her sister and imprisons her in his manor until he can discover the whereabouts of her sibling.

Juliana's body calls to Nicholas, but she can never be his — her life is already mapped out. Can they fight the passion pulling them together while her father's killer stalks them?
Excerpt for Not A Gentleman

England, May 1820

Juliana yanked back on the reins and jumped from the horse before he stopped. She raced into the cave. "Emily, we have to leave. Uncle has hired someone to find us." Her eyes had not adjusted to the darkness, but she knew her sister hid inside.

Emily appeared beside her and latched onto her arm. "How do you know?"

"A man is asking questions about us in town."

"If they know we are here, surely they won't tell him."

Juliana threw what supplies they had managed to gather into a cloth sack. "Most won't, but a few shillings offered to the right person…"

She tossed the bag and the one containing their clothes to her younger sister, and grabbed the sidesaddle. "Come on, we need to ready Beauty and leave."

"But we haven't found the evidence yet."

"We don't have a choice. I'm not letting Uncle marry you off."

"He wants to marry you off also. To that horrid man."

"I know, but you're the one I worry about."

"Juliana—"

Juliana didn't wait for her to finish the sentence. They didn't have time to discuss it. She dashed into the sunlight with her sister close behind.

And stopped short.

The man she had seen in town stood beside the horses.
Not A Gentleman is available from the following online bookstores.

Amazon e-book

Amazon paperback

The Wild Rose Press e-book

The Wild Rose Press paperback

Barnes and Noble e-book

Apple e-book

Kobo e-book

©2012 LoreenAugeri - Banner by Danielle Augeri